Just 'Cause
Purchase your tickets here:
DJing in Ableton Live
by Hausik SF on 1/30/14 7:06 PM
One of our resident artists,
Matthew Santoro
, created a great tutorial video on how to get started with DJing in Ableton Live. Check it out below!
Hausik New Years Resolution: Make More Awesome Music
by Hausik SF on 1/20/14 9:57 PM
Thank you to all of you that partied with us in 2013! This year, we're taking it to the next level: we are kicking off a San Francisco specific music label! Thats right, kids, Hausik is bringing you the best, the brightest, the newest electronic music that our beautiful city has to offer. As I've said, the talent in this city is too excellent to not expose it to the world. We've committed to releasing multiple compilations this year, and this is just the first. World, meet the new Hausik crew. You're welcome.
Hausik 001: Rise - San Francisco EDM
FEATURING
BLU J - KEPIK - MATTHEW SANTORO
MONIKA SANTUCCI - THOSE BLOODY YANKS!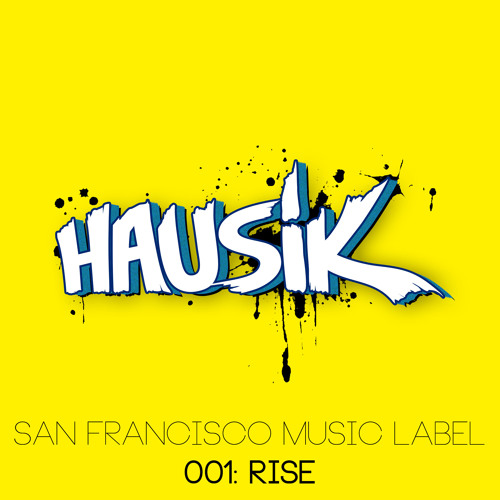 First Hausik Sweep
by TimboSlice on 1/13/14 4:26 PM
We completed our first San Francisco Hausik cleanup day this past weekend. On the Eddy & Larkin block alone we were able to gather 100 lbs. of trash. Stay tuned for more Hausik Sweep events!
Sweep SF!
by Timboslice on 1/9/14 10:55 PM
In my recent travels to Australia I noticed one glaring difference between their large cities and our own city - theirs were generally much, much cleaner. As I travelled throughout Melbourne, San Francisco's sister city, I discovered that streets and sidewalks were swept (and even vacuumed) daily. In Aussie land, rarely does one ever see trash on the streets or a neglected alleyway.
Jealous, I thought about our own sweet city of San Francisco: so full of life and flavor, yet rife with litter and "interesting" smells (yeah, SOMA, I'm lookin' at you). And so I decided when I got back that I would start a campaign to clean up the streets of San Francisco.
Luckily, there is an organization already in place to facilitate such cleanups:
SFGiantSweep.org
. I signed up Hausik as a business team, and we will be having our first cleanup this Saturday (1/11)! I've decided to target the more neglected areas of the city, namely the Tenderloin, since these areas will need the most help.
If you'd like to help out, send an e-mail over to
info@hausiksf.com
and let us know! We love this city, and we've got to take care of it. Timboslice out.
Pair of Yanks!
by Courtney on 12/26/13 9:19 PM
Tim and I recently got together and collaborated on a new track called "Come Alive." I love this track...I heard an instrumental Tim had made and I knew I wanted to write something on top of it. And I think it turned out great...we debuted it at our gig at The W Hotel in S.F. on Halloween, which was by far the most lively and exciting show thus far. Our vibe in and out of the studio and at shows have been so awesome, so I was pretty pumped when Tim asked me to join Those Bloody Yanks! We will continue putting out new music, getting an album together, and playing at more venues (and now we can finally be a pair of yanks together).
Tim and I go way back...I moved back to the bay a couple years ago and met Tim (yes, on the internet..) and I was really digging his style. His band name was "Those Bloody Yanks!"..but it really should have been "That Bloody Yank!" (because there was only one of him!). We really vibed and both appreciated one another's talents, so we decided to work on a few tracks. I was loving his music from the moment I heard "Greatest Sunshine." He wrote all the music for this and I layed down some vocals for that...then I heard "All I Wanna Do"...another awesome track written entirely by Tim that I sing the hook on.
And it has been pretty awesome this past year..gigging at some great venues and playing shows with some other dope local DJ's...and now with the help of our new promotional company HAUSIK. Between the various DJ's and dancers and packed out venues....not to be cocky, but our shows have been off the hook. And the people who come to them make it that much more fun. There's something about the vibe of the nightlife here in The Bay that would make even a 90 year old man with a cane want to stand up and get jiggy with it.
Rock On,
Courtney
Smart Car DJ
by Jared on 12/26/13 9:18 PM
The first gig I did with TBY I picked Tim up in my Smart Car. No Joke. We put his monitors, mic, vinyls, and 6 foot DJ coffin (this is what Tim calls his mobile DJ booth… The Coffin) in that tiny thing. We made it there, and back, without getting jacked at a stop light. In fact, I think the coffin hanging out the back window of the Smart made some people's night! That's where this idea came from.
Next time Tim and I found ourselves in the self-deprecating clutches of the Smart Car, we bounced the idea back and forth about if we could legitimately pull off DJ'ing from the back hatch of this tiny vehicle. To the Lab: We diverted course, and went straight to Tim's work to load all of Tim's equipment into the back of the car. It became apparent that The Coffin would not fit, so we began to improvise. Tim magically found the perfect piece of plywood that would fit the car AND hold both Technics SL-1200's and the mixer; boom goes the dynamite!
Four casters, a laptop stand, bunch of screws, and some hot black felt later, we had a DJ booth for the Smart Car. We rolled out wednesday night, hunting for some underground parties. Mighty, strikeout; Monarch, dead. We had no choice, we had to go straight into the belly of the beast: Ruby Skye. Sure enough, it was popping. Someone big was playing and line was around the corner. We did one pass just to scope the enforcement situation. It looked light, and there was a spot right in front of the line that only a half-car could fit in (Smart Car FTW!). We rolled up, I looked at Tim.
"You ready for this?"
"No."
"Perfect."
We stepped out, opened all the doors, and pulled out the equipment. I cranked the crappy stereo as high as it could go and Tim dropped the sickest beat he could. The crowd lost their MIND!! I think we only got half a track in before the legendary Ruby bouncers shut us down, but the damage was done! We posted up around the corner outside their jurisdiction, and spun the rest of the night for the crowd. Perfect.
Creative Inspiration
by TimboSlice on 12/26/13 9:17 PM
I recently found out that two straight days of nothing to do is great for the creative mind, especially without any way to contact the outside world. Also, there are worst places than Fiji to be detained by Immigration.
When I was told that I was being detained at a location 3 hours drive from the U.S. embassy, and that my family had already landed in Sydney, and that I could only make 1 phone call, I decided to get comfortable in my bridal suite.
I was forced to pay for accommodation and meals, and every person of authority I came in contact with attempted to squeeze money out from me like a sponge. Not knowing how long this would last for, I began to plan an escape and collect weapons; such as a box cutter I found!
I was unable to leave the premises or receive visitors, and it became apparent to me that I was in over my head.
I decided to make friends with the security gaurd, Pitu. He responded by bringing fresh-picked mangoes to my quarters and showed me where to watch the sunrise from the roof.
On the bright side, I was able to work on a killer track for all my friends back home whilst in detention (and eventually finished it in the Outback). So moral of the story: Stay busy, my friends, for inspiration comes at the most unexpected times...and always remember to enjoy every last drop of freedom you have!
Cheers from the land down under,
Tim